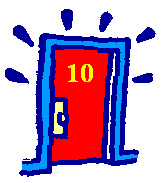 Creative Thinking!
This month sees the launch of a new style service for All Ages, usually on the last Sunday of each month. As we seek to make connections with families in the community and build a bridge between Messy Church and our Sunday worship we are trying out a new cafe style approach from this month. Letís see how it goes...
This arose out of on-going prayerful conversations about how we might encourage more families to get involved in things and be drawn to find faith in Jesus Christ. At Church Meeting in September a couple of people shared very positive experiences of seeker- friendly events in other churches using a cafe format. These had people sat around tables enjoying refreshments and doing some activities as well as things happening at the front.
We would really value your support and your prayers as we put together the first two events on 25th November and 23rd December (we didnít feel it would work on the Sunday after Christmas when a lot of people are away). A few people have already expressed an interest in helping me put together these first attempts at a new style. Iíd love to hear from others who may have inspiring ideas on how we can communicate most effectively through this interactive format. Or are you up for helping Debbie do some yummy snacks?
We are also looking for a title for these gatherings! Our first one is fast approaching and, being the week before Advent, will probably explore something around the question - why did Jesus come?
Do be praying about who you might invite along Ė people of all ages who may not be ready for a more structured act of worship but may want to find out more about what it means to be a follower of Jesus.
Blessings in Christ,