Christians Working Together In Shanklin
---
Information
Seven local churches are working together to create a united witness in the community. This formal arrangement was launched in January 2002 though the churches and leaders have been worshiping and working together for many years.
There is also a network of Churches on the Island, Wight Churches, with a website and information service, which serves the whole Christian community on the Isle of Wight.
Latest News
Evening Worship – shared worship each week is at 18:30 (unless otherwise stated). The programme is:
| | |
| --- | --- |
| 28th Oct | Sacred Heart Church Hall, Atherley Road – Informal Shared Worship |
| 7th Nov | URC - Informal Shared Worship |
| 11th Nov | St Blasius Church, Church Road - 16:00 Taizé Style United Service with Holy Communion |
| 18th Nov | St Paul's Church, Regent Street - United Service |
| 25th Nov | Sacred Heart Church Hall, Atherley Road – Informal Shared Worship |
Please make a special effort to come along
Foodbank News
One matter for prayer is that the Foodbank Cafe in Sandown closed at the end of September so we are working together to find the right venue(s) in The Bay to provide local access to help once again. Please keep your gifts coming for the IoW Foodbank which will still be very busy in the run up to Christmas distributing help at centres in Cowes, Ryde, Newport, Ventnor and Colwell.
Events and Activities
Informal Shared Worship
During the 'winter' season, September to May, at 19:00 most of the churches in Shanklin hold an informal worship, with each of the participating churches taking it in turns to host the service.
All are most welcome to join in these meetings where there is a growing depth of fellowship and prayer.
---
Rylstone Gardens Open Air Praise
Usually from the penultimate Sunday in May until the last one in August, at 19:30, we have Praise and Worship in the open air every week on Sunday evening in Rylstone Gardens - a lovely inspiring setting for Christian worship.
Photos from this year's 'opening night' (click on the pictures for a larger version)
The season of open air praise services starts each year on Pentecost Sunday and runs through to the end of August. Different groups take it in turns to lead the meetings and always attracts a good number of holiday visitors - if the weather isn't fair then we resort to meeting in one of Shanklin's Churches.
For details of where Rylstone Gardens are, see How To Find Us.
---
Easter
The Churches of Shanklin in recent years have joined together for three events at Easter.
- Lent meetings on a Tuesday lunchtime.
- A Procession of Witness on Good Friday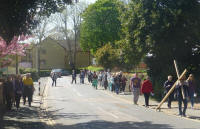 - An Easter Sunday sunrise service on Hope Beach at around 06:00, depending when Easter is (see the pictures below from previous year's services).
---
Alpha Course - 'Explore the meaning of Life'
Alpha courses are held periodically
This is a great means of introducing people to basic Christian beliefs.

Details from Brian Harley
---
Page Last Updated 25 October 2018